Review: Hisense Sero 8 is Good but Not Great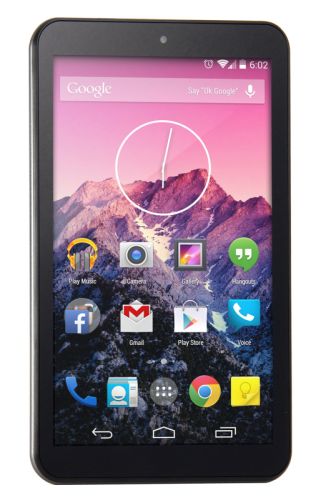 The Chinese gadget maker Hisense thrilled gadget buyers last year when it released the Sero 7 Pro, a $149 Android tablet that set the standard for the budget tablet market last year.
I for one was expecting Hisense to repeat that trick in 2014, but that hasn't happened. Now that I've had my hands on the Sero 8 for a week I can see that Hisense has made a good tablet, just not one which deserves the praise lavished upon the Sero 7 Pro last year.
Hisense has only launched a single tablet in the US and Europe (a second tablet just cleared the FCC). The Sero 8 isn't quite what I would expect in a replacement for the Sero 7 Pro; it is a mid-sized tablet with a budget price of $129 and (aside from the cameras) the specs and performance of similarly-priced mid-grade 8″ Android tablets like the Acer Iconia A1-830.
Table of Contents
[—ATOC—] [—TAG:h2—]
Review Date: 20 July 2014 – Review unit purchased from the Walmart store in Manassas, VA
Hardware
The Sero 8 is taking over the reins as Hisense's flagship tablet from the difficult to find Sero 7 Pro, and in several ways it is a better tablet. The Sero 8 sports a 1.4GHz quad-core Rockchip CPU with 1GB RAM, 16 GB internal storage, and two cameras. It has both Wifi and Bluetooth, a microSD card slot, and an 8″ screen.
At first glance and at second glance, the Sero 8 looks like a generic Android tablet. It's made to be held in landscape position, and it has a simple black glass front with a textured plastic back. The single speaker is on the lower back of the tablet, along with a 2MP camera. The front-facing VGA resolution camera is centered over the screen, and on the upper edge you'll find the power button, headphone jack, USB port, and microSD card slot.
The Sero 8 has a more powerful CPU than most tablets in this price range (including the Sero 7 Pro), and it also ships with better cameras and more storage. The cameras are admittedly weaker than on the Sero 7 Pro, but then again that tablet had better cameras than what you could find on a $99 budget tablet.
Screen
The quality of the screen is one of my chief concerns for budget tablets, and the Sero 8 doesn't disappoint. This tablet has an 8″ display with a resolution of 1280 x 800. Unlike cheaper tablets, the color quality is great, and the viewing angle is on par with the iPad.
The Sero 8 can be viewed from virtually any angle (including close to 90 degrees to the left, right, up or down) without any decrease in color quality or the viewing experience.
Not only is the screen good, this tablet could well double as a flashlight. At maximum setting the backlight is somewhat brighter than the one on my Kindle Fire HD, and at its dimmest the backlight on my Sero 8 Pro is also somewhat brighter than the one on my Kindle Fire HD.
Cameras
The Sero 8 is equipped with a 2MP camera and a VGA resolution webcam. I tested both cameras outside, and they are quite good. There's no LED flash on the rear camera, so it won't be much good for less than brightly lit situations, but it still takes a high quality photo.
The cameras are supported by the basic camera app, with the usual minimal features.
Battery
According to the specs posted online, the Sero 8 has a 4Ah battery, with an estimated battery life of 7 hours. I think that is a conservative estimate.
My tests suggest that the Sero 8 has a video run time of over 6 hours. Regular runtime will likely exceed 8 hours and can be extended by avoiding intensive tasks like watching movies or playing games. My estimate is based on playing a 1080p video with sound at full volume and Wifi on. While this isn't the most intensive use of the battery, but it does offer a good yardstick because most activities short of 3d gaming will need fewer resources.
I have also noted that the Sero 8 has a standby time of around 5 days, which is fairly common for budget Android tablets.
 Software
This tablet ships with Android 4.4 KitKat, Google Play, and a minimum of bloatware. In addition to Google's mandated apps (Play Newsstand/Music/Books/Games/, Voice Search, Hangouts, maps, etc) Hisense has only installed 4 apps, three of which belong to Walmart (Vudu and two shopping apps for Sam's Club and Walmart.com). The 4th app is a TV remote app which could prove useful for anyone who still owns a TV.
I installed a few apps myself, but I will admit that I didn't test the software features as extensively as I could. I didn't really see the need. The Sero 8 runs a stock version of Android 4.4 with few additions. There's not much to say about it.
 Performance
With an Antutu score of 17,712, the Sero 8 promises a performance superior to that of the Hisense Sero 7 Pro (as well as other cheaper 7″ tablets I reviewed last year).
And it delivers. The Sero 8 is noticeably peppier than the 7″ Android tablets sitting on my desk.  It more than fills my needs for a budget device, and if nor the my discomfort over the screen size I would be sorely tempted to keep the Sero 8 and see if the extra power enabled me to get more done, faster.
Audio & Video
The Sero 8 comes equipped with the basic gallery app, the stock media player, Youtube, Vudu, and a video player app which I somehow managed to get to display in a window (I have not managed to get it to repeat that trick).
I haven't tested the Vudu app, but the first three work just fine. Given the Sero 8's score on Antutu, we already knew that it was more than powerful enough to handle virtually any video thrown at it, even 1080p videos or higher. They look great, but the audio is another matter.
The Sero 8 only has a single rear-facing speaker, and it was (at its loudest) very quiet. This is not a speaker you can use in a quiet room; it's simply not loud enough. I think you will need to plan on using the headphone jack, or a pair of BT headphones.
On the plus side, the audio quality of that quiet speaker was generally good; I listened to several songs with tricky audio and most of the keywords came through clear.
 Verdict
This is a solid tablet. The build quality is great, and Hisense used decent components (especially the cameras) and they added more storage than I would have expected. The Sero 8 even scored well on the performance test.
But I for one don't like the screen size.
Yes, I know this is picking nits, but the Sero 8 is too heavy and too large for me to comfortably pick up by gripping the edges. This is one of the things I like about 7″ tablets, which I can easily scoop up and carry one-handed. The Sero 8 is bigger, and yet it doesn't offer a significant increase in screen real estate in trade. What's more, the Sero 8 has the same screen resolution as many 7″ tablets, spreading the same number of pixels over a larger area.
But still, this is a good tablet – just not as good of a deal as the Sero 7 Pro was last year. At $149 the Sero 7 Pro was incomparable, while the Sero 8 has at least one 8″ tablet that offers a similar value.
Right now I also have the Acer Iconia A1-830 sitting on my desk. This tablet has similar performance and comparable specs (better cameras but no card slot), and only costs $10 more on Amazon.com than the $129 list price for the Hisense Sero 8.
I can see the good points in the Sero 8, but I wouldn't recommend rushing out and buying it right away – not when you should also consider what else is on the market in the same price range.
Update: Now that I have reviewed the Iconia A1-830 I can say that the Sero 8 is a better buy.
Where to Buy
Walmart is supposed to be the exclusive retailer, but they do not sell it on Walmart.com nor is it carried in most stores. You'll need to check the Walmart website and see if any stores near you have this tablet in stock.
It could be rather difficult to get your hands on a new Sero 8; you might want to check Ebay. You could also look for a refurb, but I don't know that any were available when I wrote this post.
Specs
Screen: 8″
Screen Resolution: 1280 x 800
Capacitive touchscreen
OS: Android 4.4 KitKat
CPU: quad-core 1.4GHz RockChip RK3188
GPU: Mali-400 MP
1GB RAM
Storage: 16GB internal (actual: 12.5GB), microSD card slot
Cameras: VGA (front-facing), 2MP (rear-facing)
Wifi, Bluetooth
speaker, microphone
Battery: 4Ah
Dimensions: 8.2″ x 7.6″ x 0.4″
Weight: 450 grams