Yet another site for ebook lending – Lendle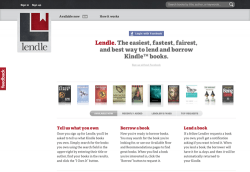 I've just read in The Guardian about another ebook lending site, Lendle. Unfortunately the site appears to be down at the moment, so I can't tell you anything about it. But the guardian had this to say:
Just days after its launch, Lendle now has 1,045 ebooks listed as available to borrow. Users can also access their Amazon accounts through the site to buy titles, with the site receiving a small cut of the profits each time they do so.

In a blogpost on the site, founder Brian Ericford said news of the site had spread "primarily on word of mouth through Twitter mentions." Lendle had already lent dozens of books, he said, "and – as a note to publishers – sold more books than we've lent".
I've also added it to my list of ebook lending libraries.