Best eBook Readers of 2015
A couple days ago I published an open topic post where I invited readers to ask any question they wanted.
One reader asked me which device I thought was the best ereader on the market. That's really not the type of question you can answer in a comment, so today I sat down and jotted out a few notes on what I think makes for the best ereader.
Table of Contents
[—ATOC—] [—TAG:h3—]
Hardly any new ereaders were released this year, but there are enough new and old models on the market that the few best devices stand out from their competition.
I haven't covered all the possible bases, though; some questions, like the best cheap ereader, are difficult to answer. And then there's the title of best Android ereader, a topic which I don't feel I can answer (I'm not happy with any of the models I have tried).
Do you have a recommendation for best Android ereader?
Best All-Around eReader
This was an easy one.
Amazon's newest Paperwhite, with its 300ppi screen, is hands down the best all-around ereader.
Its solid hardware is supported by reading software that combines very adequate formatting options with useful reading features like X-Ray, Wikipedia look-up, shared notes and highlights, vocabulary builder, Goodread integration,
The Paperwhite (2015) has the same screen resolution as on the Kindle Voyage, only for $80 less. That price difference also means you don't get the Voyage's flush glass screen, sleaker design, or its auto-adjusting frontlight, but I'm just one of many who think the tradeoff is worth it.
---
 Best Premium eReader
I think the Kobo Aura H2O is the best ereader among those with a $180 and up price tag.
I know that most people would go with the Kindle Voyage as the best premium ereader, but I've had my hands on both the Voyage and the Aura H2O, and I have to say that I prefer the latter.
The Aura H2O has a 6.8″ screen and provides the best balance of performance, software features, and hardware. It covers all the basic features, including highlights, notes, and bookmarks.
Also,the Aura H2O offers more formatting options than the Kindle Voyage, including margin and line with, setting custom font weights, and even installing your own fonts. And of course the Pocket integration means you can also read news articles with very little effort.
Plus, the Aura H2O waterproof, and has a microSD card slot (two features the Voyage lacks).
---
Best Large-Screen eReader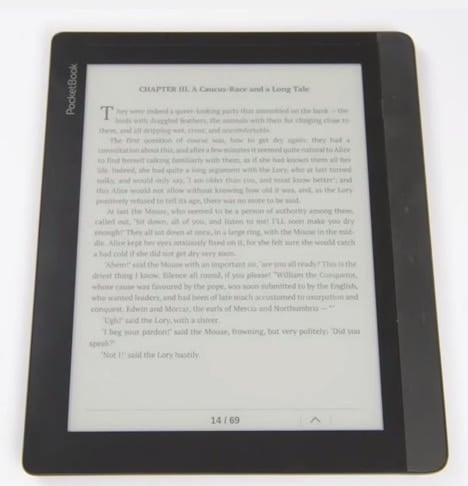 Over the past few years I have reviewed several large-screen ereaders, including models from Onyx, Bookeen, and Pocketbook.
The Pocketbook InkPad 840, with its 8″ screen, is far and away the best ebook reader larger than 6″. It has the best mix of features, speed, and format support. While it doesn't run Android like the i86 HDML, the Inkpad is still faster, is nicer to hold, and has an all around better design.
Alas, it is also difficult to acquire unless you live in Europe or Russia.
---
Best Cheap eReader
Now this is a question which I don't think I can answer. This title is a fast moving target which depends almost as much on which device is on sale this week as on hardware and software features. While I have tried several cheap ereaders over the past year, I don't know that I can recommend one over any other.
Their chief value comes from their price, and not from software or hardware. While I found last year's basic Kindle to be very usable, I don't know that I would say it's still the best cheap ereader – not when another model could go on sale in the next few months. (It is a safe choice, though.)