Dual-Screen 13.3″ E-ink Musik eReader by Design M Plus (video)
Remember the Gvido, that dual-screen sheet music reader which is expected to ship later this year?
Charbax has found a second such device from another Japanese company, Design M Plus. He caught up with the company when it was exhibiting its Musik device at CeBIT earlier this year.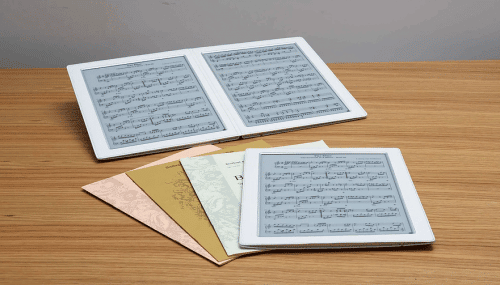 As you can see in the following video the dual-screen version of the Musik looks a lot like the Gvido. However, the single-screen model does not. That looks more like the Sony DPT-S1 or any other large-screen ereader (this is why I don't think the Gvido and the Musik are the same device).
While the Gvido and the Musik could be the same device, the one looks a lot more complete in the software dept and there is no obvious connection between the two companies.
In a way, the Musik reminds me of the Kno, a dual-screen textbook tablet that launched in 2010. The Kno started out with two 14″ screen, and for a short time before the device was canceled there was also supposed to be a single-screen model.
The Kno never shipped, however, and and it's not clear that the Musik will either.
The Gvido, on the other hand, has a retail price of $1,600 and is set to ship in September. (I have updated my earlier post with all the new info.)