Sony Shuts Down Its Digital Paper Division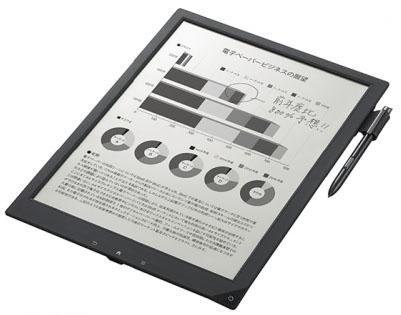 My competitor is reporting that Sony has thrown in the towel on its writing slate division, and he is very likely correct.
The main landing page for the Digital Paper devices has been removed from Sony's website, and neither the 10.3″ Sony DPT-CP1 or the 13.3″ DPT-RP1 are available from Sony's authorized retailers such as Amazon or B&H. In fact B&H lists both models as discontinued.
The first model in this product line was announced in 2013, and shipped in 2014 with a retail price of $1,100. The last two models, both of which used hardware developed by Netronix, were released two years ago and three years ago.
The models came in two different screen sizes, but they generally had the same software. They only supported PDFs, but made up for that limitation by offering first-class annotation features as well as cloud backups for the files and annotations.
It is unknown whether those cloud services will survive the shutdown.
BTW, if you like the hardware, you can still buy it as the Fujitsu Quaderno A4 or A5, or as the MooInk Pro. All 3 devices feature the same hardware that Sony licensed from Netronix.