Don Quixote comic now available for the iPad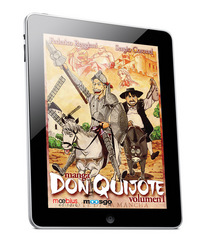 From the press release:
Moosgo announced today the release of Don Quixote in a comic version specially developed for iPad, the revolutionary new Apple portable device.

"Don Quixote, one of most popular and recognized works in Spanish language arrived to iPad through Moosgo. The IPAD is specially designed for content consumption, among which are the comics. So it seemed an excellent opportunity to make this release, spreading around the world and through one of the most innovative device like the IPAD, "said Cristian Parodi, Director of Moosgo.
This is actually their third app, and it's available for $1.99. Moosgo have also released a couple comics for the iPhone. all can be found in the App Store.