Condolences: 35 touching quotes & 5 messages for you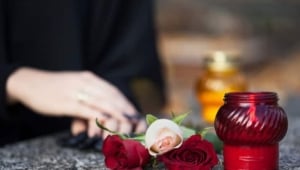 When a loved one dies, it's hard for everyone involved. However, bereavement and sympathy cards can help your loved ones know that they are not alone in their grief. We have tactful quotes and messages to help you express your condolences.
Sending messages of condolence is always difficult. There don't seem to be any appropriate words that can ease the grief and even begin to express the pain of those affected. However, you can give strength to those who will read your words when you send the right message.
Condolence Messages and Funeral Quotes
In the following sections we have collected beautiful condolence wishes for you. Use them to send condolences by mail or express your condolences tactfully online.
Short Condolence Messages
Short condolences are especially suitable for condolences via text or social media.
Of course, it's always nice to get a card, but by now it is no longer taboo to express your sympathy this way.
However, make sure that a message via text fits the personal relationship between you and the bereaved. The following quotes and sayings can inspire you or introduce your condolence card.
"The life of the dead is placed in the memory of the living."
(Marcus Tullius Cicero)
"From my rotting body, flowers shall grow and I am in them and that is eternity."
(Edvard Munch)
"I know that grief comes in waves. That's why I intend to be with you throughout this difficult journey."
(Unknown)
"Sending healing prayers and comfort during this tough time."
(Unknown)
"To live in hearts we leave behind is not to die."
(Thomas Campbell)
"In the end, it's not the years in your life that count. It's the life in your years."
(Abraham Lincoln)
"When you are sorrowful look again in your heart,
and you shall see that in truth you are weeping for that which has been your delight."
(Kahlil Gibran)
"There are no goodbyes for us.
Wherever you are, you will always be in my heart."
(Mahatma Gandhi)
"It is not length of life, but depth of life."
(Ralph Waldo Emerson)
"We do not remember days, we remember moments."
(Cesare Pavese)
"Say not in grief 'he is no more' but in thankfulness that he was."
(Hebrew Proverb)
"The sun, the moon, the wind, the stars, will forever be around, reminding you of the love you shared, and the peace she's finally found."
(Unknown)
In addition to the condolences, of course, you should always add a few personal words and sign personally. Maybe you will find it easier to write a text if you relate it to the selected saying.
Condolence Quotes for the Bereaved
However, condolence sayings are not only suitable for funeral cards. The bereaved can also add them to a Mourning Notice, for example.
Such condolences are hopeful and keep the memory of your loved one alive. The following sayings are suitable for both funeral cards and obituaries.
"What we have done for ourselves alone dies with us; what we have done for others and the world remains and is immortal."
(Albert Pike)
"Do not think of me as gone. I am with you still in each new dawn."
(Native American Poem)
"Unable are the loved to die, for love is immortality."
(Emily Dickinson)
"He spoke well who said that graves are the footprints of angels."
(Henry Wadsworth Longfellow)
"If I had a flower for every time I thought of you, I could walk in my garden forever."
(Alfred Lord Tennyson)
"Like a bird singing in the rain, let grateful memories survive in a time of sorrow."
(Robert Louis Stevenson)
"Some people come into our lives, leave footprints on our hearts, and we are never the same."
(Unknown)
"Truly, it is in darkness that one finds the light, so when we are in sorrow, then this light is nearest of all to us."
(Meister Eckhart)
"The darker the night, the brighter the stars, the deeper the grief, the closer is God!"
(Fyodor Dostoevsky)
"We should feel sorrow, but not sink under its oppression."
(Confucius)
"However long the night, the dawn will break."
(African Proverb)
"As a well-spent day brings happy sleep, so a life well spent brings happy death."
(Leonardo da Vinci)
Christian Quotes for Funeral Cards
Mourners can also find comfort in the Bible. There are countless appropriate Bible verses that deal with death and can give hope to the grieving.
However, before choosing such a saying for your sympathy card, be sure that the deceased and their loved ones are Christian and religious.
"When you go through deep waters, I will be with you."
(Isaiah 43:2)
"I have no one else like him, who will show genuine concern for your welfare." (Philippians 2:20)
"Peace I leave with you; my peace I give to you. Not as the world gives do I give to you. Let not your hearts be troubled, neither let them be afraid." (John 14:27)
"I am the resurrection and the life. He who believes in me will live, even though he dies; and whoever lives and believes in me will never die." (John 11:25)
"Fear not, for I am with you; be not dismayed, for I am your God; I will strengthen you, I will help you, I will uphold you with my righteous right hand." (Isaiah 41:10)
"The righteous perish, and no one takes it to heart; the devout are taken away, and no one understands that the righteous are taken away to be spared from evil. Those who walk uprightly enter into peace; they find rest as they lie in death." (Isaiah 57:1-2)
"God is our refuge and strength, A very present help in trouble."
(Psalm 46:1)
"He will wipe every tear from their eyes. There will be no more death or mourning or crying or pain, for the old order of things has passed away."
(Revelation 21:4)
"For they cannot die anymore, because they are equal to angels and are sons of God, being sons of the resurrection." (Luke 20:36)
"Therefore you too have grief now; but I will see you again, and your heart will rejoice, and no one will take your joy away from you." (John 16:22)
"For the Lord will not reject forever, For if He causes grief, Then He will have compassion According to His abundant loving kindness." (Lamentations 3:31-32)
Texts for a Tactful Message of Condolence
It can be incredibly difficult to find comforting words for loved ones after someone's death.
While you can be quite emotional with close friends, you should write more distantly but still compassionately with distant acquaintances and work colleagues in order to remain cordial.
However, you should not only focus on grief, but also leave room for hope and positive thoughts. We will elaborate what such a text can look like with the following quotes.
You can use these texts as a guide and rewrite them for your bereavement card – so that you can find the appropriate words for your loved ones or colleagues.
After a long illness
"To live in hearts we leave behind is not to die."
(Thomas Campbell)

I am incredibly sorry that such a wonderful person has passed away. I am sure that [name] is now in a better place where there is neither pain or suffering. I wish you much strength and am with you in my thoughts.

with much sympathy

(Signature)
Sympathy wishes for friends in case of sudden death
"What we have done for ourselves alone dies with us; what we have done for others and the world remains and is immortal."
(Albert Pike)

The loss of your father has shaken me deeply. I can hardly imagine how difficult this time must be for you. I wish you the necessary time to say goodbye and lots of strength so that you can again look to the future, as your father would have wanted.
To the relatives of an acquaintance
"The life of the dead is placed in the memory of the living."
(Marcus Tullius Cicero)

I will infinitely miss [name] and her outgoing nature as well as her cheerful laughter and will never forget her. In my memories she will live on and accompany me. Her commitment has always been an inspiration to me and she will continue to be a role model for me in the future. Her life has changed many people's for the better – including mine. For that, I will always be thankful to her.

I wish you much strength as you come to terms with the terrible loss of such a wonderful person. I am here for you guys if you need me.

In deep sorrow

(Signature)
Sympathy wishes to a widowed colleague
"Fear not, for I am with you; be not dismayed, for I am your God; I will strengthen you, I will help you, I will uphold you with my righteous right hand."
(Isaiah 41:10)

We are deeply saddened and can hardly imagine how difficult this loss must be for you. Take the time you need to say goodbye. We send you much strength for this.

In devotion

Your colleagues
To the family of a deceased neighbor
"Truly, it is in darkness that one finds the light, so when we are in sorrow, then this light is nearest of all to us."
(Meister Eckhart)

We were deeply saddened by the news of your mother's passing. We wish you our sincere condolences and much strength during this difficult time. We will greatly miss Mrs. X in our neighborhood community.

with much grief

(Signatures)
Definition of Condolences
To express condolences means an expression of sympathy. Usually this term is used on the occasion of a person's death that you have known or a person that's close to you.
Express Condolences in Person
However, you don't necessarily have to express your condolences in writing. You can also offer your condolences to the loved ones in person. This is appropriate, for example, if you know the relatives well.
This way, you can personally offer them your support and inquire about their well-being. If you happen to meet the relatives on the street, you must decide spontaneously whether or not to approach them about their loss, because not everyone likes to talk about it.
However, you should definitely support good friends, offer them your help and take over important tasks. However, you should also accept it if they do not want your help.
Examples of personal sympathy are:
My condolences on the death of your grandpa.

The loss of your mother has hit me deeply. I wish you endless strength.

It's so hard to find the right words. I just want you to know that we are here for you when you need us.

We are very sad that Anna is no longer with us.

I know my words probably won't make a difference, but you have my deepest sympathy. My thoughts are with you and your family.
Tips for Writing Your Condolences
Although everyone loses loved ones in life, it is often difficult to find the right words for grief. The loss that accompanies a death is difficult to put into writing.
There is little that can ease the pain. Still, you should try to support those grieving as much as possible. You can do this by listening to him, supporting him in his daily life, and expressing your sympathy, for example, with a bereavement card.
However, it can be incredibly difficult to express your feelings in a funeral card. Sympathy sayings can be a welcome help. You can take a cue from them and incorporate them into your personal condolences.
Writing a Card with your Condolence Message
It's always nicer and more personal to write your condolence wishes in a card instead of just expressing them via a text or on social media. With a mourning card you can show that the loss of the deceased affects you deeply and that you are thinking of the survivors.
This is another reason why you should send your sympathy card as soon as possible after someone's death. If you wait too long to send your sympathy card, it can be upsetting for those affected, as they are constantly reminded of the death.
You can personalize the content of your card. You can use these messages to hone your expression of sympathy, rewrite them in your own words or build upon their content. However, you should not string together countless quotes, but build on one saying, which is the focus of your condolence card.
Keep your Condolences Short
You'd better keep your condolences short in general. Since it is a serious matter, you should not embellish or decorate your text.
In this way you could give the wrong impression and deal insensitively with a serious subject like death. Rather, remain objective and formulate clearly how you feel and what you want to say.
Include Personal Words
Although you should keep your condolences short, you can also include some personal words in your condolence card rather than just writing copying a standard text. Of course, this also depends on how well you knew the deceased.
If he was a close friend or good acquaintance, you can of course write more openly about your feelings than in the case of distant acquaintances whom you may have known only briefly.
It is best to let your feelings run free, for example, write about shared experiences or offer your support to the bereaved. You can also include future wishes for the relatives in your sympathy card.
It is nice if you refer to the character of the deceased. This once again adds a more personal touch to your sympathy card and gives you the opportunity to better express your feelings.
It is also best to choose your sympathy saying based on the character of the deceased. A random saying that has nothing to do with the deceased will offer little comfort to the relatives. If you knew the deceased person well, you can also offer to deliver a eulogy.





(11 votes, average: 4.73 out of 5)
You need to be a registered member to rate this.

Loading...